Medical Devices & Diagnostics (MD&D) companies know they are being impacted by the current pandemic and are seeking independent research to quantify how much their markets will decline or increase, how long the recovery will take, and what factors will determine that recovery.
A new surveillance tool to track the Impact of COVID-19 on medical devices & diagnostics markets is now available through research firm Life Science Intelligence (LSI). This new tool includes content from a recently published report written in collaboration with LSI's longtime strategic partner, Health Research International (HRI).
According to LSI CEO Scott Pantel, "We've had an overwhelming number of clients -- from both the medtech and financial services communities -- come to us asking for guidance on how their markets are going to be impacted. Everyone is generally asking the same questions: How will medtech markets be impacted in the short-term and when will they rebound? How can we protect vulnerable business units and leverage opportunities in others? Which surgical procedures are being postponed, when will they bounce back, and how fast, so we can be ready?" Pantel adds that "LSI has been covering medtech markets for over 2 decades and we've been through crises like these before, 2018 as an example, but this situation is much more complicated with so many moving parts. Because of this, we've rolled out a new tracking tool to support our customers and their strategic decisions as best we can during these uncertain times."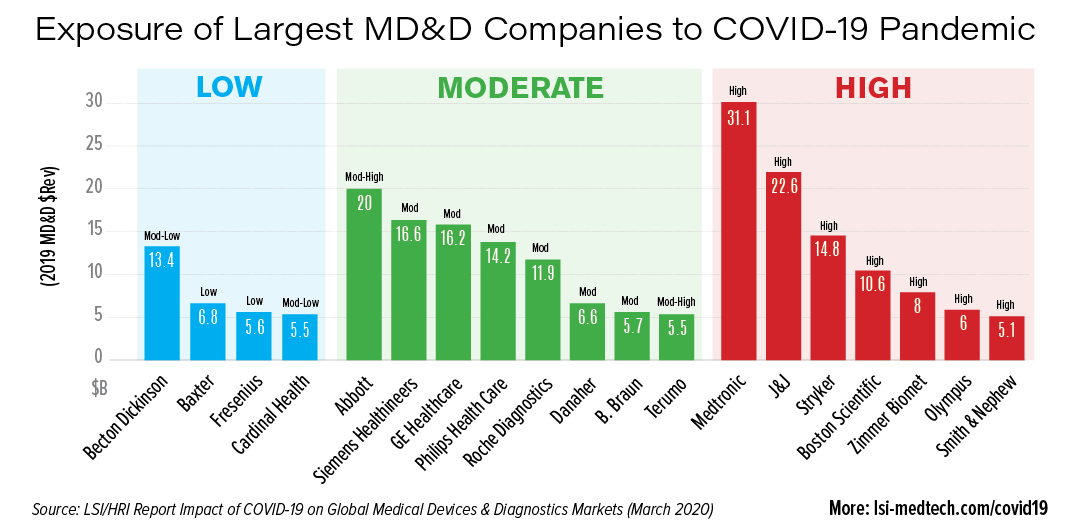 The new tool provides logical and thoroughly-researched forecasts.
Early research indicates that the largest medical device & diagnostic companies in the world will see varying levels of exposure.
High Exposure
Medtronic
J&J
Stryker
Boston Scientific
Zimmer Biomet
Olympus
Smith & Nephew
Moderate Exposure
Abbott
Siemens Healthineers
GE Healthcare
Philips Health Care
Roche Diagnostics
Danaher
B. Braun
Terumo
Low Exposure
Becton Dickinson
Baxter
Fresenius
Cardinal Health
The full report examines:
Surgical caseloads by major type (emergent, non-emergent, elective)
30+ technology markets by major type
Markets by major geography
Clinical markets by major type
For more information check out COVID-19 Impact Tracker.